P-MEC an International exhibition on pharmaceuticals and packaging machines
October 22, 2019

Strapping Machine Operations
November 14, 2019
In this guide, we are going to provide you information on safety instructions, specifications, operation and maintenance of strapping machine.
Before operating or servicing the strapping machine, please read the below-provided safety instructions carefully.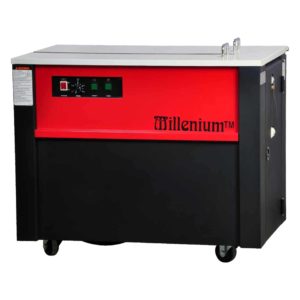 Safety instructions before machine operation
Wear eye (or face) and hand protection.
Check the voltage and use the specified electric power to ensure the proper operation of the machine.
Check that all guards are in place and all safety devices are working properly.
Do not operate the machine with any safety devices removed.
Make sure the machine is clear of all tools, debris, and other objects not related to a machine function.
Safety instructions during machine operation
Never put any part of your body near, under or into a moving machine.
Keep hands out of the strap chute area.
Only trained persons should operate the machine, even though the operation is simple and easy.
Do not strap any part of your body.
Safety instructions after machine operation
Remove all tools, debris and other objects from the machine area.
Shut off all electric and air power and make sure that the electric power is off.
Strapping machine maintenance
Shut off and lockout all-electric and air power.
Do not stand or walk on the conveyor to service the machine.
Follow the maintenance instructions in this manual.
Use the correct tools and parts to repair the machine.
Safety signs
Read all of the signs on the machine.
Do not remove any signs from the machine.
Replace all missing or damaged signs.