Battery Operated Strapping Tool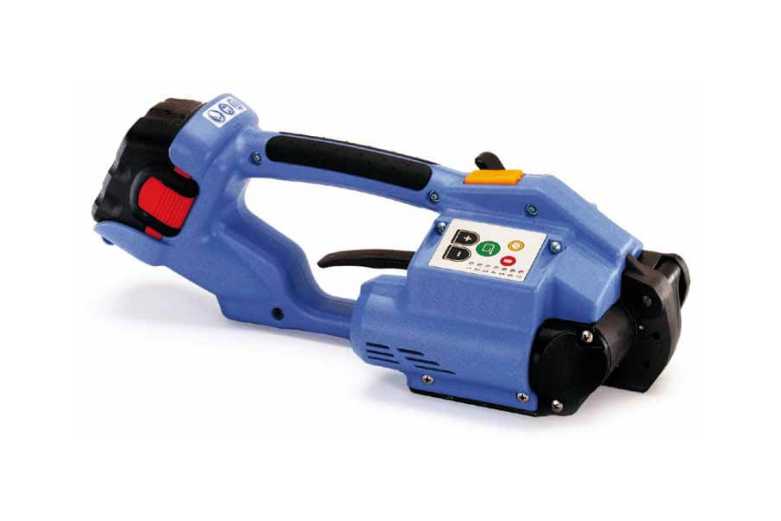 Battery Operated Strapping Tool to strap pack very heavy loads to bundle them.
Battery Operated Strapping Tool
Battery operated Strapping tool is a hand held strapping device to packs to unitize heavy loads like Bricks, long pipes, Iron rods, etc. PET Straps is the used to pack the products.
Specifications:
Model
Power source
Rechargeable battery
Sealing type
Friction welding
Tension type
Automatic
Strap material
Polyester (PET) or Polypropylene (PP)
Strap width
13-16mm (4/8 – 5/8 inches) or 16 &19mm (5/8 & 3/4 inches)
Strap thickness
PET: 0.55-1.05mm (.022-.04 inches)
PP: 0.75-1.05mm (.029-.04 inches)
Sealing efficiency
80%+-5% of strap breaking strength (varies based on strap quality, remaining of battery power and set sealing time)
Sealing time adjustment
0.6-4.8 seconds
Tension force
Max. tension 400~2000 N (Tension performance varies based on strap specification and quality, and the remaining of battery power.
Weight
3.35Kgs./ 7.37Lbs.(Tool), 0.9Kgs./2Lbs.(Battery).
Dimensions (mm)
15.37" x 5.03" x 5.3"
Battery life
Up to 2000 charges of proper charging and ambient temperature
Strapping cycles
Fully charged battery support up to approximately 250 strapping cycles under max. tension setting and normal ambient temperature
Contents of package set
Each package set contains strapping tool, battery and adaptor. ( Charger & adaptor can be excluded to lower price further upon request )
Get the Best Price for Battery Operated Strapping Tool
Ask for a Quote?
just fill the form. we will get back to you as soon as possible!