Pallet Stretch Wrapping Machine - Rotating Arm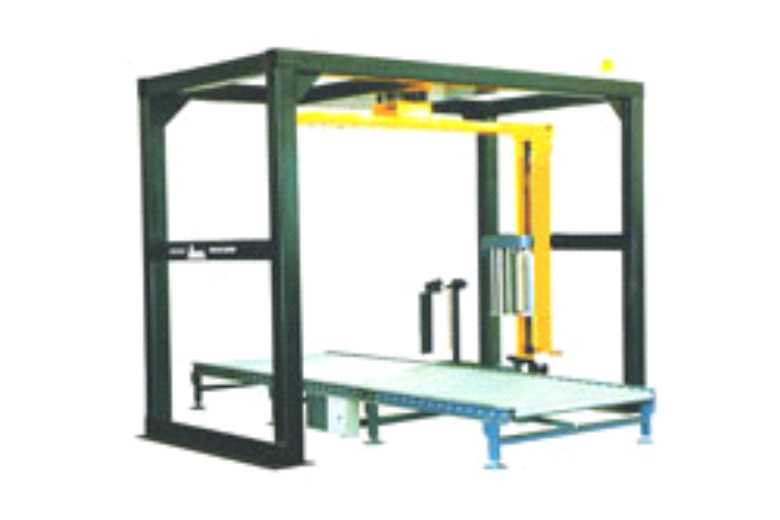 Pallet Wrapper Rotating Arm Online
Pallet Wrapper Rotating Arm
The Rotating Arm – Pallet stretch wrapper machine is one of the pallet wrapping machines category where a mechanical arm rotates around the palletized product which has to be packed.

The Rotating Arm stretch wrapper machine provides solution for customers who needs to stretch wrap very heavy or unstable loads.

Controls

OMRONPLC.
Photo-eye pallet height sensor.
0-9 separate top-bottom & up-down wrap count selectors.
Photoeye sensing delay.
Reinforce wrap allow more wrap on same location.
Film Tension Control adjustment on the panel.
3—15RPM'arm variable a speed by frequency changer.
Separate variable carriage up/down speed.
Cycle pause capability.
Separate start, reset and emergency stop buttons.
Manual carriage up/down switch.
Turntable jog button.
Flash light for machine in operation.
Rotary arm stop by safety bumper and reflection photoeye sensing and obstacle in the rotating area.
Conveyor


Heavy Structural steel Frame construction.
All rollers driven.
Heavy Duty Conveyor Guards.
Conveyor length 4.I'm Roller diameter :89mm Roller length: 1300mm Center distance: f /4mm.
Different Roller Diameters and Roller Spacing Available for a variety of applications.
Conveyor Speed: 12m per min (other speed available).
Photo-eye Pallet Sensing and sequencing option.
Packing height: 2400mm.
Pneumatic film cut & wipe system.
Net fence guard.
Machine color.
Get the best price for Pallet Stretch Wrapping Machine - Rotating Arm
Ask for a Quote?
just fill the form. we will get back to you as soon as possible!