Semi Automatic Carton Sealing Machine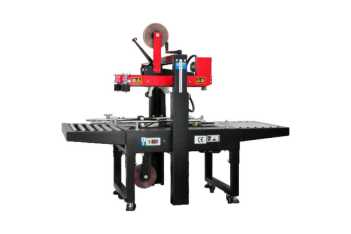 Semi Automatic Carton Taping Machine for fast and hassle free packaging
Semi Automatic Carton Packing Machine
One of the most demanded and useful Machine to pack the carton boxes with ease. Both top and bottom flaps are sealed simultaneously by BOPP Self Adhesive Tapes. The Taping done by the machine is very precise and firm. The wastage of the film is also next to zero.
Specifications:
Model
Power Supply
1 Phase 110V/220V/240V
Packing Size
Max.: L∞ x W500 x H500 mm
Min.: L150 x W170 x H110 mm
Tape Width
50 mm (2") or 76 mm (3")
Working Table Height
570~770 mm (Adjustable)
Sealing Capacity
20 Cartons per minute
(Carton: L500 mm, Power: 60 HZ)
Dimensions
L1052 x W755 x H1430 mm
(without optional extensive working table)
Net Weight
133kgs
Get the Best Price for Semi Automatic Carton Sealing Machine
Ask for a Quote?
just fill the form. we will get back to you as soon as possible!