Automatic Strapping Machine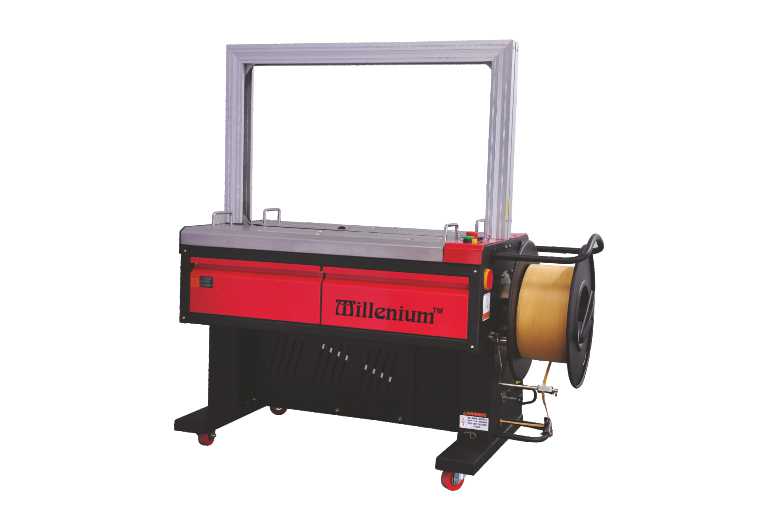 MPS 010FASTA1
Automatic Strapping Machine
Our Automatic Strapping Machine Model MPS 010 FA STA1 is designed with 3rd Generation Aluminium Alloy Arch, furthermore the Modular design helps in easy assembling and disassembling.
The PLC Controller installed makes the machine more reliable (as compared to other machines available in the market using contractors or relays), therefore making our machine long life with lesser breakdowns and most importantly non-stop increased productivity.
This machine is very user friendly, the auto strap positioning function ensures proper positioning, adding to it the retry function also ensured every cycle is accurate and efficient.
This machine is having convenient operating modes with panel, ball switch and foot pedal switch.
User or operator can easily adjust the tension of straps with the help of mechanical tension knob.
The most important part and surely to mention is the SAFETY of operator, our Safety design to control Voltage of 24V(DC) ensures the safe operation and prevents operators from electrical shock.
The Components installed in the machine are heavy duty and long lasting resulting in trouble free operations.
Features
PLC Controlled
Makes the Machine more reliable than any other machine using contractors or relays
3rd Generation Aluminium Alloy Arch Modular Design
Easy to assemble and disassemble, No arch motor required.
User Friendly
Easy to operate, you just have to place the carton where you want the strapping to be done, just with a push of button the straps will enfold the carton with accurate tension, heat seals the straps and cuts it, within seconds the machine is ready for another cycle of strapping….so easy.
Easy Tension Adjustment
Set required tension as per your requirement with easy to use mechanical tension knob
Safety Design
Voltage Control of 24V(DC) ensure safety of operator.
Auto Refeed
Specifications:
| Model | MPS 010FASTA1 |
| --- | --- |
| Arch Size | 850W x 600H mm (Standard) |
| Power Supply | 3, 380V, 50 Hz, 1250 watts |
| Strap Cycle Speed | 27 Cycles per Min |
| Tension Strength | Max. 70 Kgs. (Adjustable-Mechanically) |
| Strap Width | 9/12/15 mm - to be specified at the time of placing the order |
| Sealing Method | Heat Sealing |
| Dimension | 1400W x 640D x 1475H mm |
| Table Height | 805 mm |
| Machine Weight | 220 Kgs. |
| Gross Weight | 265 Kgs. |
| Control | PLC Controlled |
Buy Automatic Strapping Machine at Best Price
Ask for a Quote?
just fill the form. we will get back to you as soon as possible!