Strapping Rolls for Box Packaging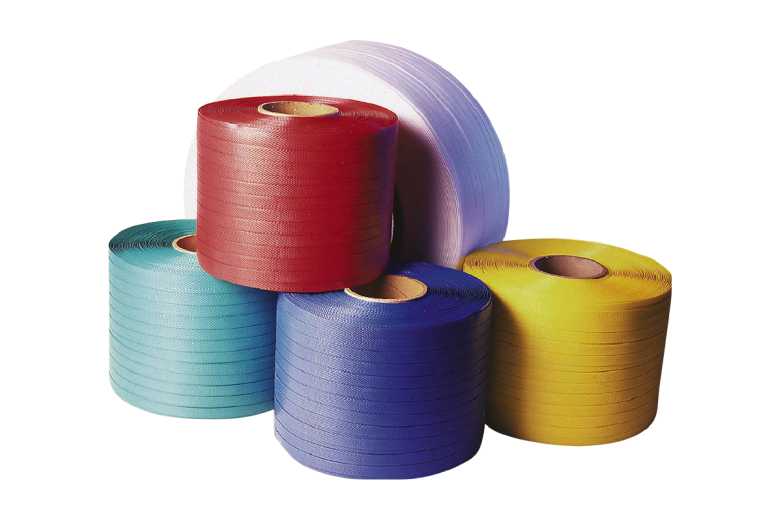 Usage :
Widely used and well accepted in almost each and every segment of the Industry for end line packaging such as Auto, Food, Pharmaceutical, White Goods, Engineering, Appliances, Print Media, to name a few.
Suitable for Manual usage and all kind of Strapping Machine i.e. Semi-Automatic, Fully Automatic & High Speed Systems.
PP (Polypropylene) Strapping Roll
Polypropylene strap is an economical plastic material designed for light to medium duty unitizing, palletizing and bundling.

Our Manufactured plastic Strap can be printed, either during production and pre-embossing for the highest quality and precision.

It is available in various widths, thicknesses, and polymer variations This product offers higher elongation at break but tends to have irrecoverable dead stretch with constant stress.
Specification :
Manual Core I.d.: 75mm
Length : 165mm
Advantages :
Low Cost, Longer Length, Anti-Corrosion, Strong Bonding, Good Tensile Strength.
Good Appearance, Bright Colors, Logo Printing, and Colored Strap can be produced according to customers demand.
Comply International Environmental Standards for Packaging Material.
Our products are ROHS Environmental Certification Standards Compliant.
Salient Features:
Virgin Polypropylene is used as main ingredient in producing PP Straps, Stable Mechanical & Physical Properties of end product, Uniform Weight per meter, Stable Strap thickness. Made on World Class production lines resulting into minimum possible variations in the Width, Thickness & Grammage per meter. Ensuring Value for Money with optimum yield. Overall good performance.
---
Get the Best Price for Plastic Strapping Rolls
Ask for a Quote?
just fill the form. we will get back to you as soon as possible!