Bopp Self Adhesive Tapes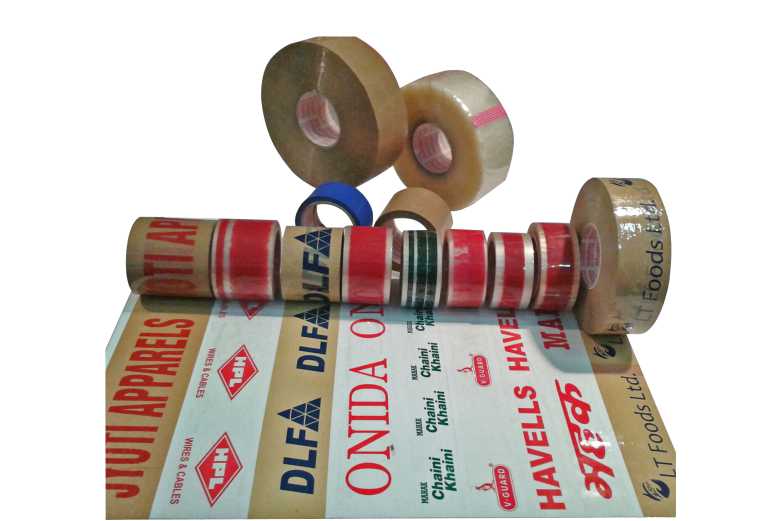 Description :
BOPP Self Adhesive Tapes are Pressure Sensitive Tapes in nature.
These Tapes are manufactured using ingredients such as BOPP Films, Water Based Adhesives and Inks for Printed Tapes.
BOPP Film is under gone through High Voltage Corona Treatment for creation of rough surface on one side for applying the adhesive and then cut into required sizes. According to its different effects it is extensively used for CFC-Carton Box's Flap Sealing in various Industries such as Food, Pharma, Tobacco, Appliances, Chemical, Engineering, Stationery and so on
Logo Printing can be done upon Customer's demand upto 4 colors, this helps Customer's in the promotion of Company's Brand and making the package Pilfer Evident.
The products are ROHS Certified.
Specification :
50 Micron BOPP Self Adhesive Tape.
Salient Features :
Versatile Applications and are used by virtually each and every segment of the Industry for Carton Closure and other Applications.
Available in different colors on demand, Standard Tapes are available in Super Clear (Transparent) and Brown/Tan color.
Available in Rolls of different lengths, the standard lengths are 65 / 100 / 130 / 650 Mtrs.
Available in different thicknesses ranging between 36 - 55 microns.
Available in different width such as 12 / 18 / 24 / 36 / 48 / 60 / 72 and 100 mm. (Width can also be customised according to demand).
Suitable for Manual and Machine usage.
High Shelf Life.
Tapes can be printed with Company Name and Logo for Corporate look & Identification.
---
Get the Best Price for BOPP Tapes
Ask for a Quote?
just fill the form. we will get back to you as soon as possible!