Automatic Carton Taping Machine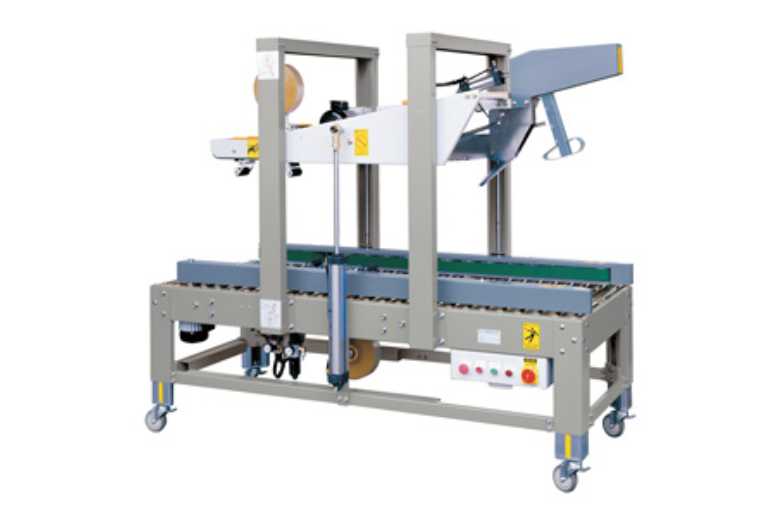 Fully Automatic Carton Sealing Machines : Auto adjust and auto closes the flaps of the carton boxes
Automatic Carton Sealing Machine
We are the noted Suppliers of Fully Automatic Carton Sealing Machines. These type of machines serves their purpose in many industries like food, chemical, pharmaceutical as well as cosmetic.

Fully Automatic Carton Sealing Machines supplied by our organization are in great demand in national as well as in international market.
Features
The width & height of carton are adjusted by automatic pneumatic system and it is suitable for the fully-automatic packing system with various sizes of cartons.
The top flaps of the carton will be automatically folded and be sealed smoothly at a time. It will save the labor and a lot of time.
Specifications:
Model
CS040SA-FC
Power Supply
1 Phase 110V/220V/240V
Packing Size
Max.: L∞ x W500 x H500 mm
Min.: L150 x W160 x H120 mm
Tape Width
50 mm (2") or 76 mm (3")
Working Table Height
570~770 mm (Adjustable)
Transmit Speed
20M / Min.
Dimensions
L1990 x W950 x H1625 mm
Net Weight
270kg
Air Compressor
6 Kg / cm2
Get the Best Price for Automatic Carton Sealing Machine
Ask for a Quote?
just fill the form. we will get back to you as soon as possible!