Automatic Banding Machine with Power Belt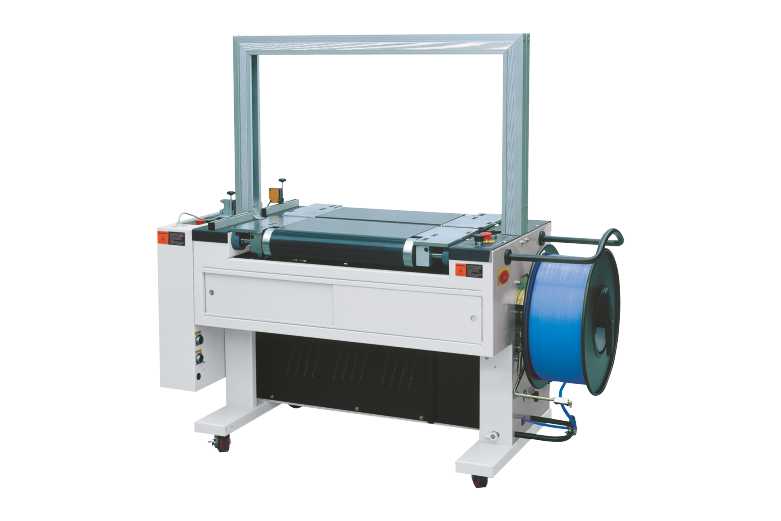 MPS 010FA85PBU
Automatic Banding Machine with Power Belt
The top table of this machine has been replaced by power belt, so that it can be combined with belt conveyors, making the box pack to move easily from one unit to another while completing the process of packing.

This Model MPS010 FA 85PBU can also be combine with our other models like Carton box Taping Machine or carton box sealing machine, carton box wrapping machine etc...

The machine is installed with 2 sets of Photocell, an optional photocell to control the table transmitting is available, which can auto stop the table when there is no package to pack

This machine is pre installed with 1, 2 or no strapping option, More strapping application is also available as an option before placing of your order.


Features
PLC Controlled

Makes the Machine more reliable than any other machine using contractors or relays.

3rd Generation Aluminium Alloy Arch Modular Design

Easy to assemble and disassemble, No arch motor required.

User Friendly

The carton box reaches Strapping machine with the help of Power belt table and stops at the desired point where strapping has to be done, after strapping automatically moves to the new section, within seconds the machine is ready for another cycle of strapping.

Easy Tension Adjustment

Set required tension as per your requirement with easy to use mechanical tension knob.

Easy Combination with other machines

This machines can easily be combined with other machines with the help of Power belt conveyors, i.e. integrating with Box Taping Machines, Carton Box Wrapping Machines etc. moreover can be customized as per your requirement.

Safety Design

Voltage Control of 24V(DC) ensure safety of operator.

Auto Refeed
Specifications:
| Model | MPS 010FASTA1 |
| --- | --- |
| Arch Size | 850W x 600H mm (Standard) |
| Power Supply | 110/220V 50/60 Hz 1PH 220/380V 50/60 Hz 3 PH |
| Strap Cycle Speed | 2.5 Sec. / Cycle |
| Tension Strength | Max. 70 Kgs. (Adjustable-Mechanically) |
| Strap Width | 9~15.5 mm |
| Sealing Method | Heat Sealing |
| Dimension | 1150W x 640 D x 1550 H mm |
| Table Height | 820 mm |
| Machine Weight | 307 Kgs. |
| Gross Weight | 402 Kgs. |
| Power Belt Speed | 17M/50Hz Per Min. |
| Package Size | 200-520W, 30-560H mm |
Ask for a Quote?
just fill the form. we will get back to you as soon as possible!