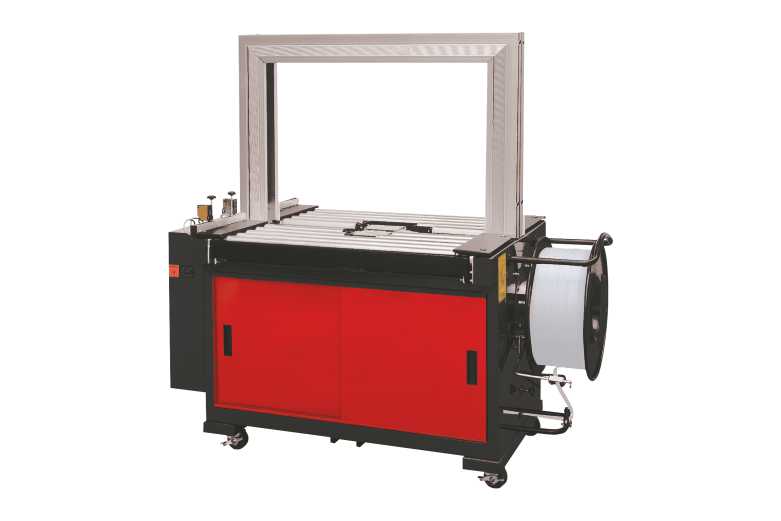 MPS 010FASTA1
Fully Automatic Online Strapping Machine
Online Strapping machine is one of the most advanced technology to pack your products for safe transportation, with minimal human participation and for fast-paced operation.

Millenium ensures the product works as per your desired results, thus, keeping in view, the components installed are of Superior quality which undergoes several quality checks.

Online Strapping machine is imbedded with automated tools which help for steady and trouble-free operation throughout the packaging process.

This machine comes with power roller conveyors or belt conveyors as per the requirement.


Benefits of Online Strapping Machine.
Long Functional life / non corrosive coating.
Easily Integrates with other packaging machines through Belt or Roller conveyors. For e.g. Carton Taping Machine, Shrink Packaging machines.
Fully automatic operation System helps reduced labour cost and high production.
ZERO touch operation. (ZTO)
Low maintenance.
Working of Online Strapping Machine.
Keep the product on the power Roller or belt conveyor which automatically carries your product to online Strapping machine.
As the product reaches the strapping arch, the photo-eye sensor stops the product at the place where the strap has to be applied. (you can set the nos. of strapping required on the product).
The strap is then automatically applied when the product comes in contact with proximity device.( It takes approx. 2. 5 sec per strap cycle).
As the strapping cycle completes, the power roller or belt conveyor moves the product ahead for next process.
This machine can also be operated manually, just by switching the mode to manual from automatic.
Specifications:
| Model | MPS 010FASTA1 |
| --- | --- |
| Arch Size | 850W x 600H mm (Standard) |
| Power Supply | 110/220V 50/60 Hz 1PH 220/380V 50/60 Hz 3 PH |
| Strap Cycle Speed | 2.5 Sec. / Cycle |
| Tension Strength | Max. 70 Kgs. (Adjustable-Mechanically) |
| Strap Width | 9~15.5 mm |
| Sealing Method | Heat Sealing |
| Dimension | 1150W x 640 D x 1550 H mm |
| Table Height | 820 mm |
| Machine Weight | 307 Kgs. |
| Gross Weight | 402 Kgs. |
| Power Belt Speed | 17M/50Hz Per Min. |
| Package Size | 200-520W, 30-560H mm |
Get the Best Price for
Online Strapping Machine
Ask for a Quote?
just fill the form. we will get back to you as soon as possible!