Polyester/PP strapping is used to strap the items with double the strength as compared with steel strapping. It offers a wide range of benefits and this is the reason that many industries are using polyester strap such as iron and steel, wooden crates, metal sheets, float glass, construction and other such heavy industries. We have a specialized team of technicians who keep a constant track of new developments so that we continue to offer superior products to our customers. Our motive is to keep our customers happy and we aim to achieve this in every possible manner.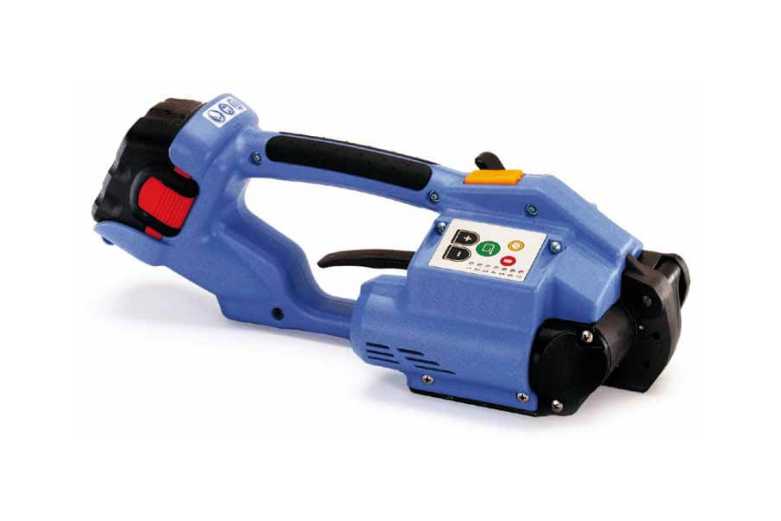 Millenium packaging is known to provide additional useful features in the polyester/PP strap machines manufactured. Some of the features are as follows:
Adjustable tension to suit heavy duty strapping work
Rechargeable battery for better convenience
One step inserting of straps
User friendly adjustable strap for better strap alignment
The usage of polyester strap is increasing on a large scale. There is a possibility of breakage of steel strap at the time of transit. Polyester strap is more than 200% resistant towards shock loads as it has the property of absorbing shock and go back to its original shape. Some other benefits are as follows:
Ability to withstand high amount of tension
No rusting and resistant towards extreme temperature
More flexible than steel and plastic
Cost efficient
Higher efficiency and ease in handling
Battery Operated Strapping Tool
Battery Operated Strapping Tool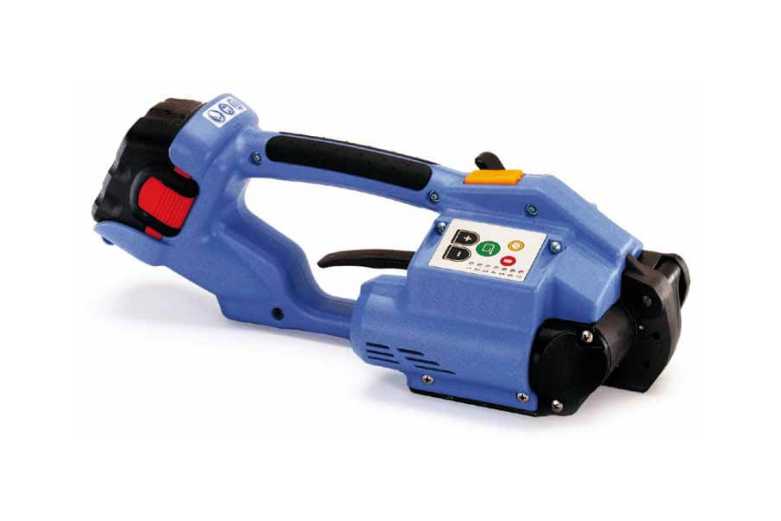 Specifications :
Power source
Rechargeable battery
Sealing type
Friction welding
Strap material
Polyester (PET) or Polypropylene (PP)
Strap width
13-16mm (4/8 – 5/8 inches) or 16 &19mm (5/8 & 3/4 inches)
Strap thickness
PET: 0.55-1.05mm (.022-.04 inches) PP: 0.75-1.05mm (.029-.04 inches)
Sealing efficiency
80%+-5% of strap breaking strength (varies based on strap quality, remaining of battery power and set sealing time)
Sealing time adjustment
0.6-4.8 seconds
Tension force
Max. tension Kgs/ N (Tension performance varies based on strap specification and quality,and the remaining of bettery power.
Weight
3.35Kgs./ 7.37Lbs.(Tool), 0.9Kgs./2Lbs.(Battery).
Dimensions (mm)
15.37" x 5.03" x 5.3"
Battery life
Up to 2000 charges of proper charging and ambient temperature
Strapping cycles
Fully charged battery support up to approximately 250 strapping cycles under max. tension setting and normal ambient temperature
Contents of package set
Each package set contains strapping tool, battery and adaptor. ( Charger & adaptor can be excluded to lower price further upon request )
Pneumatic Strapping Tool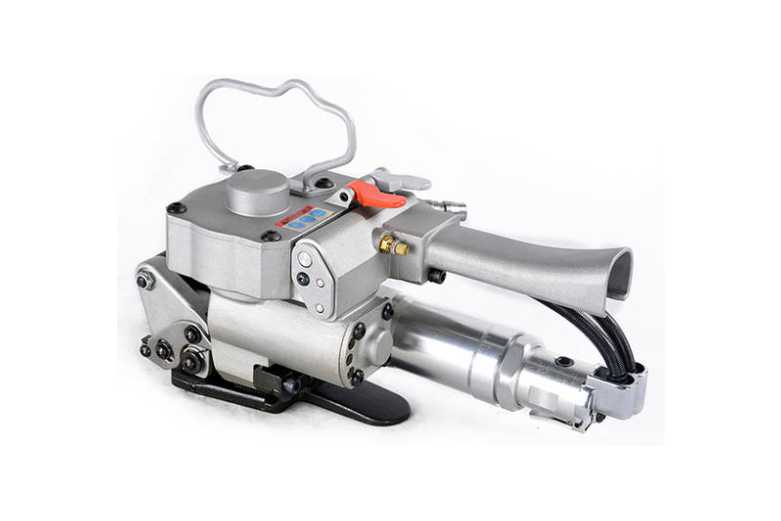 Specifications :
Air pressure
0.5-0.8MPa(72-100PSI)
Strap material
Polyester/PP/PET Strap
Strap width
13,16,19mm(1/2",5/8",3/4")
Strap thickness
0.5-1.2mm
Adjust range welding time
2-5s
Advantage
easy to use, light weight and heavy machine, pneumatic power design.
without fasteners, using friction heat welding, the interface beautiful and reliable.
high degree of automation, taut, strong weld line shell control.
large tightening force, the special structure design, easy to implement, such as steel, aluminum, heavy tighten packing material and packing.
The machine durability, all the body and components are made of high strength alloy material, high reliability design, advanced manufacturing technology.
patented design, the use of safe, avoid fatigue design.